ABV PRESSURE WASHING
Power washing is a relatively quick, relatively easy way to make your home look fresh and new. You can blast away layers of dirt and grime in no time at all.
Keeping your building and property clean, protected and maintained is the most effective way to preserve or enhance the value of your investment. That's why ABV Pressure Washing is the team of experts you want taking care of your home, commercial or industrial property.
We offer a full line of power washing services, and we have the ability to transport water to locations that don't have a water hookup. We can perform work on projects small or large as we have multiple industrial, hot water power washing units, that are capable of handling the dirtiest, greasiest jobs with ease!
OUR SERVICES
100% Satisfaction Guarantee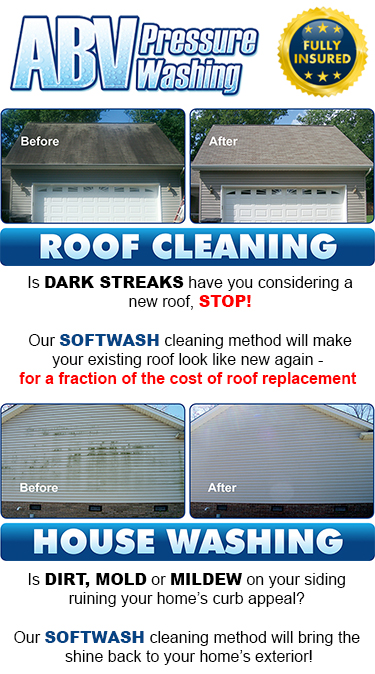 CONTACT US
Thank you for your time and interest in our services. We look forward to serving you!
I was very pleased with the job performance by ABV Pressure Washing.  They arrived to my house on time on a Saturday morning and worked diligently throughout the day to completely finish the job.  Both gentleman were friendly and courteous. They did an excellent job pressure washing my house, porch, and driveway. …

Read more

There are nothing but GREAT things to say about Hal Brown and ABV Pressure Washing!  Excellent communication and fantastic attention to detail only begin the pluses to using ABV.  He arrived when he said he would and took care of my home and neighbors home in one trip.  The finished…

Read more

Efficient, Effective and AWESOME!!!  Great pressure washing job!!! Hal came on time was very personable, friendly, professional and thorough. He explained what he would do, did it and was done!!  Thanks Hal and thanks ABV Pressure Washing!!  You gained a return customer.

Read more